Cardiology nurse, clinical diet assistant honored for exemplary care, service
Compassion, humility and professionalism are among the words used to describe our DAISY and BEE winners. They set tremendous examples for our staff while deeply caring for their patients and co-workers.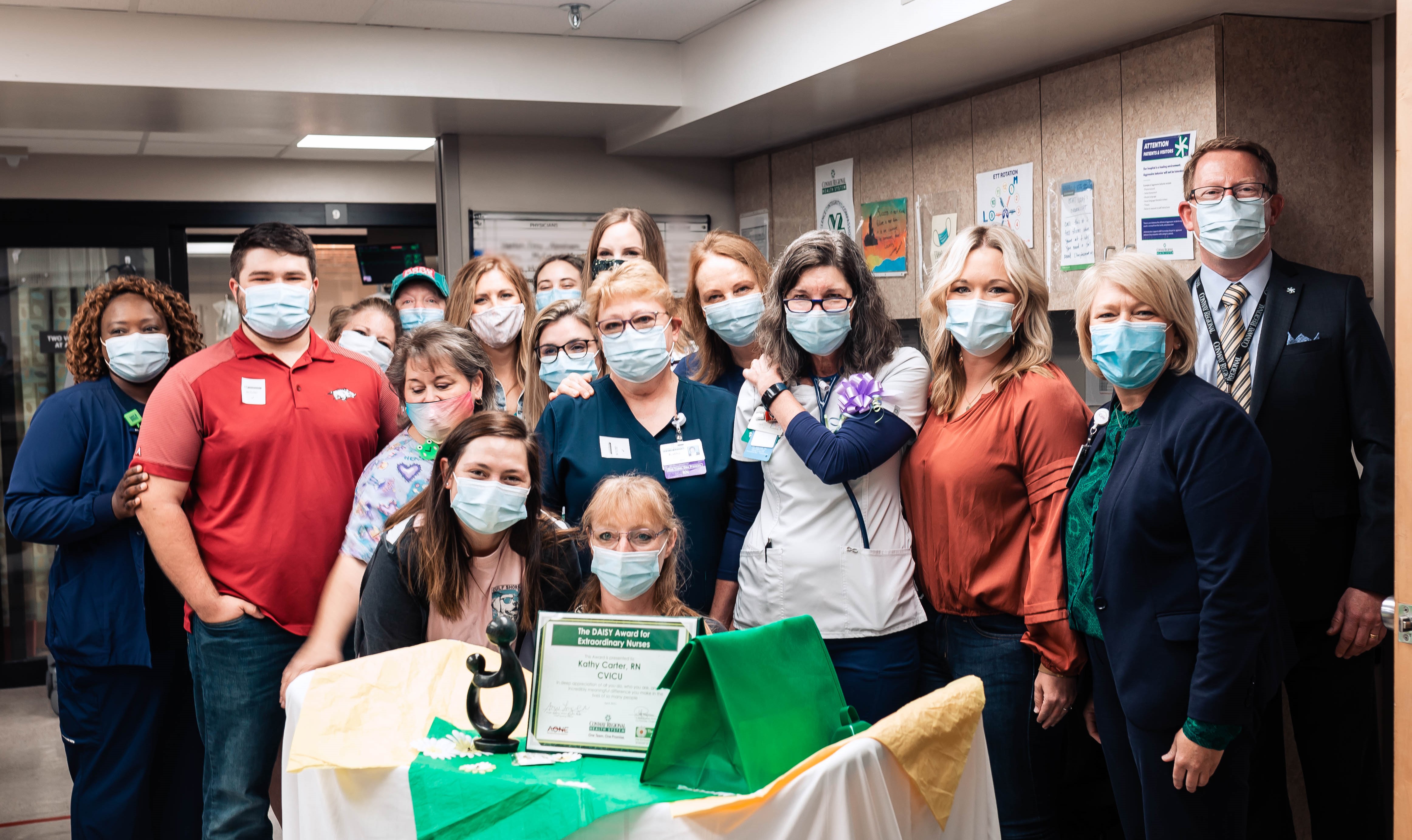 Kathy Carter, RN, and Jordan Johnson, a clinical diet assistant, are the latest DAISY and BEE award winners at Conway Regional.
As a cardiology nurse with more than 30 years of experience, Kathy Carter, RN, knows an EKG from top to bottom, but it is the compassion, humility, and professionalism that she shows her patients that has earned her the Conway Regional DAISY award.
The international DAISY Award recognizes nurses throughout the country for providing extraordinary care for their patients. The award was established by the family of J. Patrick Barnes, a dying patient, to recognize the outstanding care he received. It is also Conway Regional's top nursing award. Carter is the second Conway Regional nurse to receive the award in 2021. Local winners are eligible for the international award as well.
The Be Exceptional Everyday is Conway Regional's version of the DAISY award for non-nursing staff who provide exemplary care and service to patients and co-workers.
Reliable, humble, and caring are a few of the words used to describe Jordan Johnson, a clinical diet assistant in Nutrition Services who is the latest recipient of the BEE award.
The BEE nomination describes Jordan as a humble team player who works well with internal departments as well as patients.

Carter Is DAISY Every Day
Carter was nominated by a nurse who knew her both as a student and as a co-worker. Carter could be "a little intimidating" to a scared nursing student, read the nomination. "But she had a welcoming disposition. When you asked her a question you always got a well-thought-out answer and you still do, to this day."
The nomination added, "It's not just one particular occurrence; it's the way she cares for patients, day in and day out. She keeps her patients in pristine condition for the 12 plus hours that she works…. Overall she is just a rock star and one of the biggest assets to the Conway Regional team and each life that she touches."
Her co-worker recalled, Carter putting in extra effort for her patients, such as massaging their back with lotion as part of a daily ritual and making sure "their rooms are picked up and everything is working properly." The nomination added, "She has a such a humble heart that she doesn't believe how wonderful she is."
Carter has worked to overcome some difficult challenges during the pandemic. After working as a cardiology nurse for more than 30 years, she switched to caring for COVID-19 patients in 2020 and 2021. The change affected her. She told her co-worker, "I'm used to working with heart patients, my patients live and go home. I have seen so much death this year that it has had a strong effect on me."
The nomination continued, "We had a moment. This has been so hard on so many COVID nurses," adding but that "every patient and family that Kathy has impacted, no matter the outcome, has had the most desirable nursing care that Conway Regional has to offer. Kathy Carter is a DAISY every day that she walks through those doors."

Johnson: Humble, Caring Team Player
"She cares deeply for her patients, going above and beyond to meet their needs. She is kind and shows respect to every single person in the hospital," according to the award nomination from a co-worker. "She bends over backwards to accommodate staff requests and you will never hear the words 'that's not my job' come out of her mouth."