Conway Regional opens new, more spacious Greenbrier Family clinic, therapy center
The new building accommodates existing services, allowing providers to streamline care, while also allowing for the addition of new services. "There is a dedicated area just for specialists that includes a physician's office, nurses' desk, three exam rooms, and an extra procedure room," Jimmy Fulmer, MD, said. "Currently, we have orthopedists from Conway Orthopedics and Sports Medicine Center and general surgeons from Conway Regional Surgical Associates that see patients here in Greenbrier at our clinic. This new facility allows us to continue to grow and offer services from specialists typically found at the Medical Center."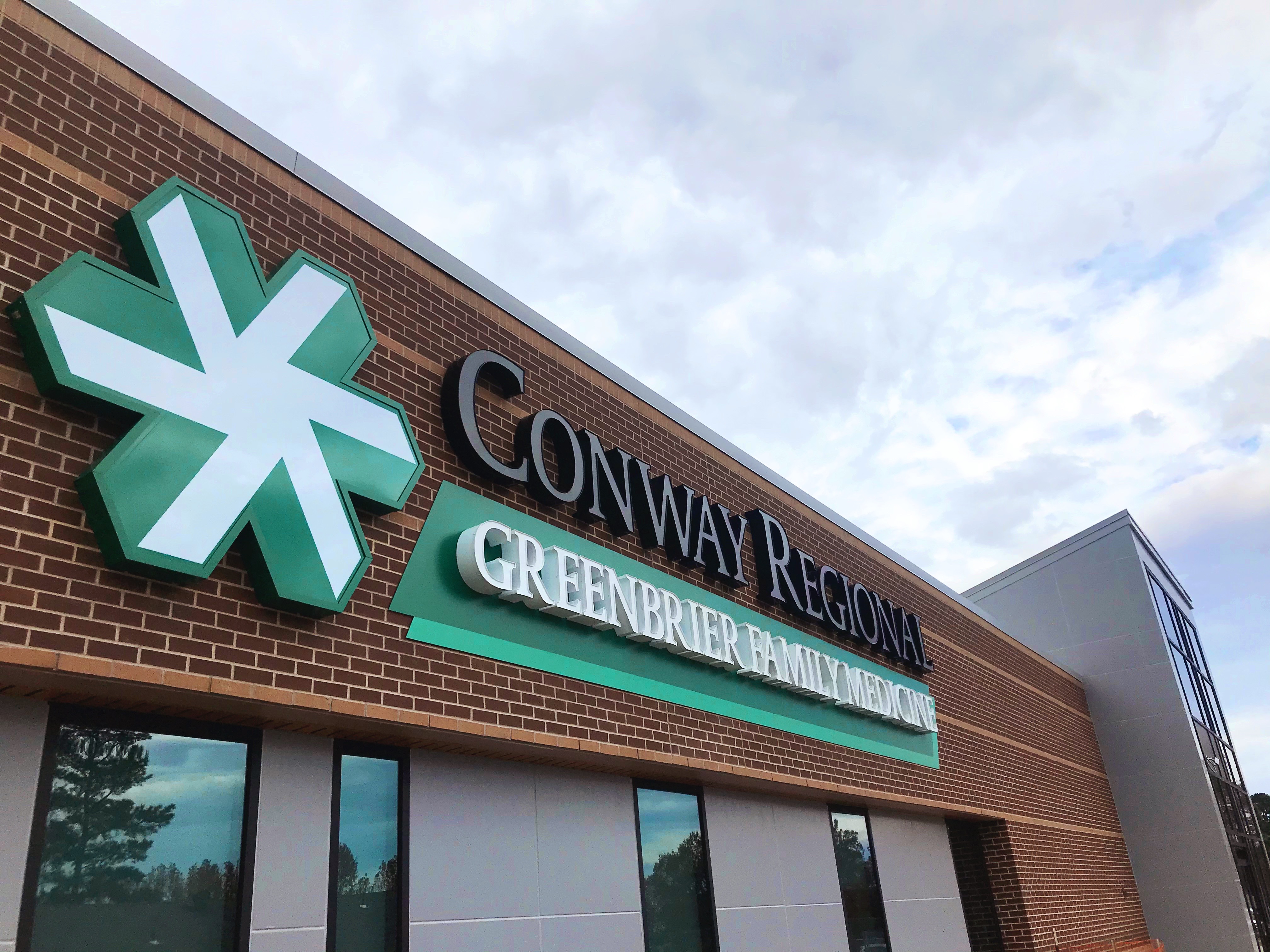 The staff of Greenbrier Family Medicine had a lot of be thankful for over the holidays as they began seeing patients in a new clinic facility. Conway Regional Health System began building a new clinic in February of 2020 to accommodate the need for an expansion of services in the growing Greenbrier area. The clinic welcomed the first patients to the new location on November 23, 2020.
Conway Regional plans to broaden available services, including specialty care, as the Greenbrier community continues to grow. "This is an exciting time for Conway Regional and for Greenbrier," said Matt Troup, President and CEO of Conway Regional Health System. "Our healthcare providers in Greenbrier are exceptional, and this new facility will give them the capability to see more patients, provide additional services, and offer expanded access to care."
Established in 1995, Greenbrier Family Medicine's medical staff includes James Fulmer, MD, Kristy Roberts, DO, Jarrod Jerry, APRN, Lauren Blansett, APRN, and Misty Birdwell, APRN.
As an integral part of the community, Greenbrier Family Medicine offers high-quality, compassionate health care services to individuals of all ages. "My oldest patient is 102, and Misty Birdwell provides care to newborns, so we have a wide range of patients. We are truly a family medicine clinic," said Kristy Roberts, DO. "Part of the fun of family practice is getting to know the entire family from the time they are little, and at the same time, being able to take care of parents and grandparents along the way." Roberts is a Greenbrier native who has had an osteopathic medicine practice in Faulkner County for 15 years.
The clinic provides care to patients outside Greenbrier's city limits, with patients living in Clinton, Heber Springs, and Quitman. "We have a large patient footprint," noted Roberts.
She added that the staff is thankful to be in the new, more spacious clinic. "We used every square inch of the previous space that we had," said Roberts.
James Fulmer, MD, has practiced with Greenbrier Family Medicine for eight years. "This expansion has given us the ability to grow, and we are grateful Conway Regional recognized our growing patient volume and our need for a larger facility," he said.
The new building accommodates existing services, allowing providers to streamline care, while also allowing for the addition of new services. "There is a dedicated area just for specialists that includes a physician's office, nurses' desk, three exam rooms, and an extra procedure room," Fulmer said. "Currently, we have orthopedists from Conway Orthopedics and Sports Medicine Center and general surgeons from Conway Regional Surgical Associates that see patients here in Greenbrier at our clinic. This new facility allows us to continue to grow and offer services from specialists typically found at the Medical Center."
The new space also allows for the relocation of Conway Regional Therapy Services - Greenbrier to Greenbrier Family Medicine by the end of January to mid-February. The therapy team specializes in physical and occupational therapy for pre- and post-surgical conditions, such as rotator cuff, knee arthroplasty, and hip replacement. The therapy clinic is under the supervision of Sayre Sellars, DPT.
"The Conway Regional Greenbrier Family Medicine clinic is a place where people can come to have their health care needs met," said Jarod Jerry, a nurse practitioner who has been with the clinic for ten years. "With expanded space and additional services, we will be a one-stop clinic for most patients."
The 14,300-square-foot Greenbrier Family Medicine Clinic and therapy center is part of a $60 million capital investment at Conway Regional that includes the renovation of the Conway Regional Health and Fitness Center, a new medical office building on the Conway Regional Medical Center campus, and the upcoming relocation and expansion of the hospital's critical care unit. Conway Regional is working to meet the health care needs of the community by providing innovative services, new clinics, more specialists, and expanded access to care.
To learn more about Greenbrier Family Medicine or to schedule an appointment, visit www.conwayregional.org
(Originally published in Faulkner County Lifestyle Magazine)